What do all these people have in common? They are some of the most influential creative leaders of multiple generations, turning natural talent and personal drive into art and business empires and they are expressing their views about creativity in

CREATIVITY: Unconventional Wisdom from 20 Accomplished Minds

In this fascinating book, the authors have interviewed twenty well known creative people to identify why they feel that creativity is so important in stimulating mankind, what motivates these creative leaders, how their ideas are born, expanded upon and eventually implemented. Executives, directors and managers, as well as artists, musicians, architects, writers and professors will all find something of great value in the wisdom of so many powerful personalities, intertwined with 90 photographs.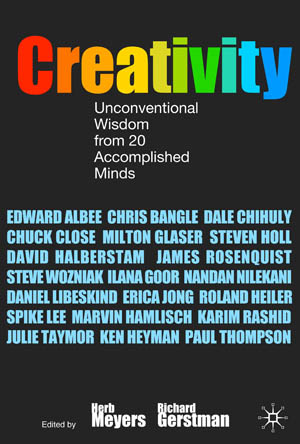 Who is in the book?

David Halberstam, Pulitzer Prize-winning Author
Edward Albee, Pulitzer Prize-winning Playwright
Dale Chihuly, Renowned Glass Sculptor
Daniel Libeskind, World-known Architect
Nandan Nilekani, CEO, Infosys, India
Erica Jong, Best-selling Author
Julie Taymor, Theater and Film Director
James Rosenquist, Pop Artist
Steve Wozniak, Co-founder of Apple Computer
Roland Heiler, Director of Porsche Design
Milton Glaser, Multi-faceted Designer
Chuck Close, Modern Artist
Spike Lee, Popular Film Director
Chris Bangle, BMW Head Stylist
Paul Warwick Thompson, Smithsonian/Cooper-Hewitt Director
Marvin Hamlisch, Oscar-winning Composer
Steven Holl, International Architect
Ilana Goor, Israeli Sculptor
Ken Heyman, Magazine Photographer
Karim Rashid, International Designer



The authors, Herb Meyers and Richard Gerstman discover through deft analysis that there are common themes and methods in creativity that will often solve problems with uncommon and unexpected results. This book will be of interest to anybody trying to better understand creativity. BUY THE BOOK


About the authors

Herb Meyers is the retired founding managing partner of Gerstman+Meyers, now Interbrand, a leading brand identity and design consultancy, servicing Fortune 500 clients. As president of Global Design Network (GDN), a Gerstman+Meyers subsidiary, the company serviced corporate clients worldwide. CONTACT

Richard Gerstman is chairman emeritus of Interbrand US. As founding managing partner of Gerstman+Meyers, he has worked extensively with major international corporate clients and is a co-founder of BrandWizard, a leading company in brand and production resource management. He has won numerous design awards, holds several design and utility patents and is a frequent lecturer on marketing subjects. CONTACT

Herb Meyers and Richard Gerstman previously co-authored Branding @ the digital age and The Visionary Package.


HOME PEOPLE IN THE BOOK SOME QUOTES REVIEWS